 Scene from David Bowie Dance Ride. Bowie was everywhere in New York City. His music poured out of the sound bike, making its way out into the night into the sky, and space oddity.
Walk off ref David Bowie.
Scene from Scarlett's time capsule
A few days last week, we had friends over to watch our favorite movies of the year. Toward the end God Help the Girl, our favorite movie from 2015, one of the members of the bad is getting ready for a gig. She tries out Aladdin Sane eye makeup.
Like so many of those of us who love music, Bowie is everywhere and nowhere.
We all have memories about when we first heard Changes One Bowie, listened to it in carpool. When we heard those songs for the first time. We laughed as he reffed the "walk off" duel in Zoolander.
Chris Ashford reflected on the ways he inspired the punk band the Germs: "When the germs first started they had a sense of humor to it that made it fun. They were huge Bowie and Iggy fans who first started in the garage with the name Sophistifuck and the Revlon Span Queens. You couldn't get much more vulgar glam than that. They were the Revlon Spam Queens for at least four or five months during late '76, early '77. They were still in school, and they didn't play at all, they just had matching T-shirts."
This is a small story about how he impacted me.
I first heard changed one when Dion, my mom's best friend's love Bill played us Changes One Bowie in Atlanta in 1980. We loved it. We bought the old album, playing it over and over.
It was the soundtrack of middle school and high school, reminding us glam was cool but so was genderqueer.
Different years, I loved different albums. Some years it was Ziggy Stardust, others Hunky Dory or Aladdin Sane.
I wrote a terrible college application essay about Bowie and Ziggy Stardust.
Time, he's waiting in the wings
He speaks of senseless things
His script is you and me boy
… Breaking up is hard, but keeping dark is hateful
I had so many dreams
I had so many breakthroughs
My buddy David posted those in his yearbook page in 1987. We'd seen him the first time together during the Serious Moonlight Tour 1983 during football preseason.
By the time, I saw him next, it was the glass spider tour, a tour no one liked, but I loved. Insane images and theater. He even played Time. That night, we were out all night, his music playing the whole time. We explored the world together.
In Italy, we stumbled in him at the Bargello Gallery Florence Italy, Florence Italy. He was with Iman. We were all looking at Donatello's David with his pinky out. Faye to the very end.
His friendly face engaged generations. My kids loved his duet with Queen. I loved his duet with Bing Crosby.
And he recited the Lord's Prayer at Freddie's memorial, introducing Mott the Hoople, and talking about playing in the old glam days with Queen.
Thinking back on the blog I was going to write about all the movies and art we watched last week, the Gene Genet, the Jenny Holtzer, and our trip to the Brooklyn Museum, its hard not to think of bowie and the museum, bowie and the streets of new York where we danced, Bowie and Florence and Italian Renaissance. Bowie was everywhere when we danced to him on the streets of Italy or the world.
"You're wonderful," he sang in RocknRoll Suicide. Thanks for reminding us, we are not alone. Thanks for reminding us there is a place for all us pretty things.
cene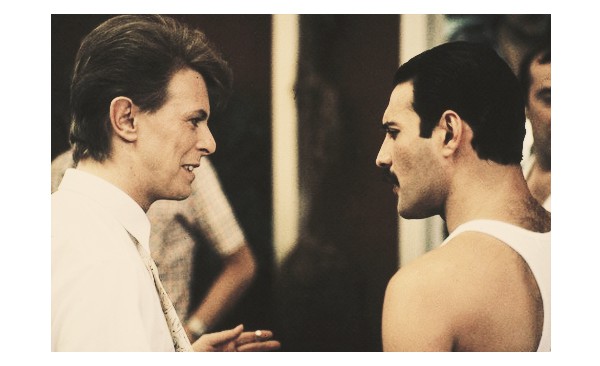 Bowie and Freddie, Bowie and Bing.
David by Donatello that i saw with David Bowie.