On MLK day, a few of Ravi and Jean's supporters met in Washington Square Park,
for Jericho Walk in support of our two friends, who are now facing deportation.
Ydanis Rodriguez, who was arrested, wrote on twitter.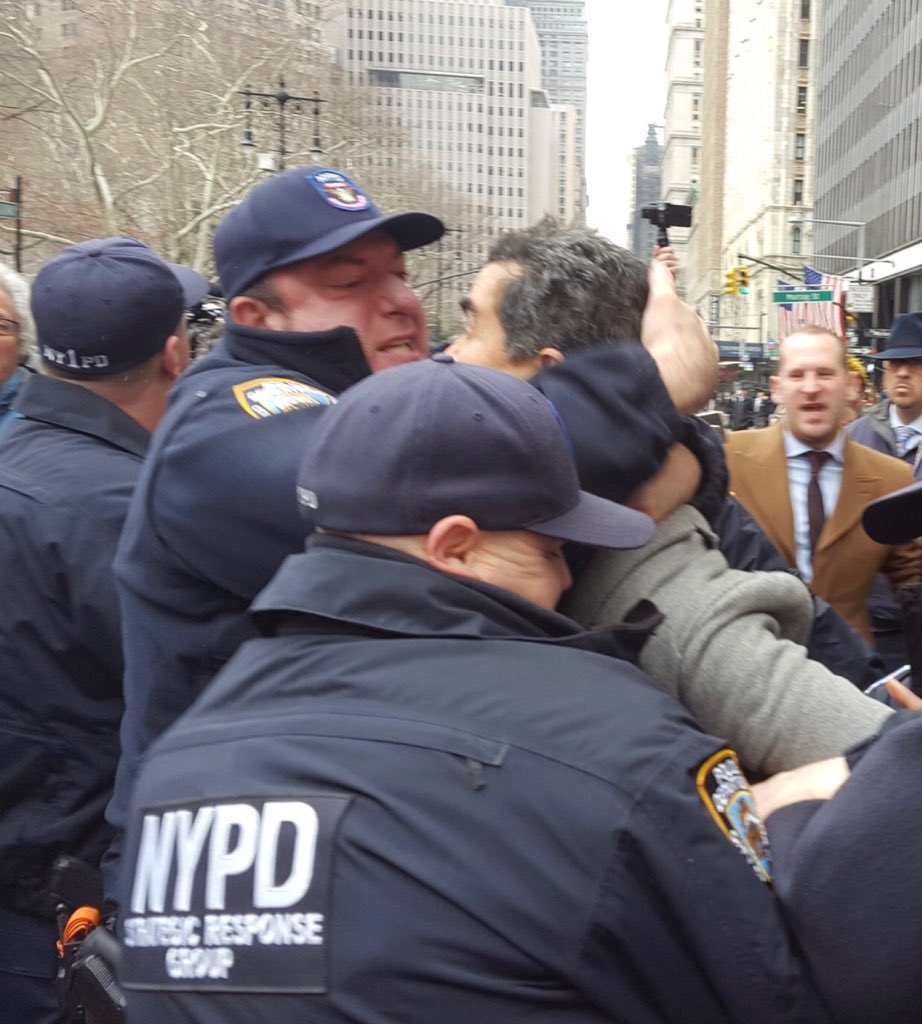 Ydanis YOU are a liar. Tell the people of NYC how you blocked an ambulance from taking a sick man to a hospital. Tell them how you resisted lawful orders and injured 3 members of the NYPD and tried to use your political position to threaten those officer and free yourself. COWARD

The ambulance was NOT transporting a sick person. They were transporting Ravi, who is the head of the @NewSanctuaryNYC who was targeted for deportation. They use this dirty trick to confuse people & justify violence against peaceful protesters trying to prevent the deportation.

Why do you think you or your cause is above the law? Do you believe you have the right to impede, obstruct, and injure unlawfully?

I'm not saying no cop choked him, but he isn't being choked in the picture. His breathing is not being obstructed in this photo. You can pull has hard as you want on the back of a guy's head and neck -- he'll breath fine until there's pressure on the

front.
Thursday's action provoked a widespread conversation about immigrant rights and protest, human rights and racism, a system of laws and a sense of wrong and right, each seemingly conflicting
I had a hard time sleeping, mulling over the questions the case brought to bear.
I talked with Ravi a few days before he was detained. I asked why they were still after him. Its because of a crime he committed and the Clinton era Immigration Reform, "That's why no one trusts the Clintons," he explained. This law states that previous crimes are cause for deportation. No doubt, Ravi has a criminal record. Yet, are his crimes cause for deportation? One doesn't see the others involved in white collar crime being deported? Are there no second chances for those who have done their time as Ravi and Jean have?
The night of his deportation, our crass president threw fire on the flames, condemning immigrants from "shithole countries" such as Haiti, where Jean is from, our history of immigrants building this country put into question.
But for most of us, immigrants are the fabric of our neighborhood and family stories.
Inside Judson after the Jericho walk, we watched a video of Ravi speaking.
"Why have I not taken up sanctuary," asked Ravi, the day before he was taken into custody by
ICE and sent to Florida. We watched a video of him inside of Judson, where a standing room only crowd took part in a press conference. "There are too many people supporting me to back down. This is a time to organize. You are refusing to let this happen, to let our humanity to be reduced to a piece of paper. This is a moment to organize. And organize supporters are doing. This a moment to extend an open hand, a welcoming hand. This is what neighborhood is all about."
Dr. Donna Schaper, the senior minister at Judson Memorial Church who is one of Ravi and Jean's biggest defenders, followed. "There is a light inside of all of us that cannot be extinguished... We were made for a time life this," she preached. "Sometimes movements grow through sacrifice," she continued, reflecting on this MLK day. "Goodness and mercy will prevail," she preached, seemingly trying to convince herself. She quoted from the 23rd Psalm. "Yea though i walk through the shadow of the valley of death, we shall walk with Ravi and Jean. We shall fear no evil for thy is with me."
When history looks back at the deportees, it will do so with shame.
Supporters begged
Scott Mechkowski, the assistant field office director for ICE, to make the right choice, to bring Jean and Ravi back to their families.
Jani Montrevil, Jean's wife,followed describing how his choices were impacting her family. "But out of every bad situation, you gotta find good," she continued. "Depressed parents bring up depressed kids. SO even when Jean was down, we parented. We parented the shit our of our kids," she concluded to a roar from the crowd.
We hope she will soon see her family united.
But it does not look like Jean and Ravi are coming home any time soon.
A few minutes after posting this, I saw this message:
UPDATE: Our country, the one so many of us try to love, has deported our friend Jean Montrevil.
Jean's drug-related charge, which has haunted him long, long after he served his time, dates back to 1990. Since then, he has worked tirelessly to help immigrants to find their voices, amplify their stories, and create strong, supportive networks of caring community.
This work has gotten Jean targeted and deported.
If you want to know why this is a fight that NEEDS YOUR VOICE, contact me, challenge me, ask me questions.
There is an entire community of folks ready to welcome you into this work, work that intersects with every other social justice cause about which we care.
We need you. Add your voice. Ask us how to.
And, if you're already raising your voice, take a breath (please!) and then pick yourself back up, reach out to me or someone else you trust for a spiritual boost, and keep fighting
.
Athena Soules
ul I am able to create shining messages of truth that the media chooses to illustrate the power of the people in these times. There is nothing I'd rather be doing.
Thanks so much
Jay W. Walker
Yana Landowne
and everyone else who helped hold the signs high!!
Message from Ravi!
A Message From Ravi From Detention
I am doing ok. It was a wild and crazy ride—every moment was uncertain except the certainty that they wanted me gone. I'm still here because of all of you. Thank you.
I miss everyone. I feel very heartbroken to see how many of you are suffering for me; how many people were abused during this process. I feel heartbroken that care for someone evokes violence.
I want everyone to stand strong. At this moment, we need to speak about changing this system so that no one has to face this type of harm. Not just for me, but for all the families who face being torn apart.
Until we get reform, we need to repeal the act that criminalizes immigrants—that makes us less than human, because of a document.
I call upon immigrants: If you need help, reach out to the New Sanctuary Coalition, and they will fight for you as they do for me.
I call upon citizens to answer the call for immigrants who are afraid and who need help standing up. Please accompany them at every step.
I know that I will see you soon.