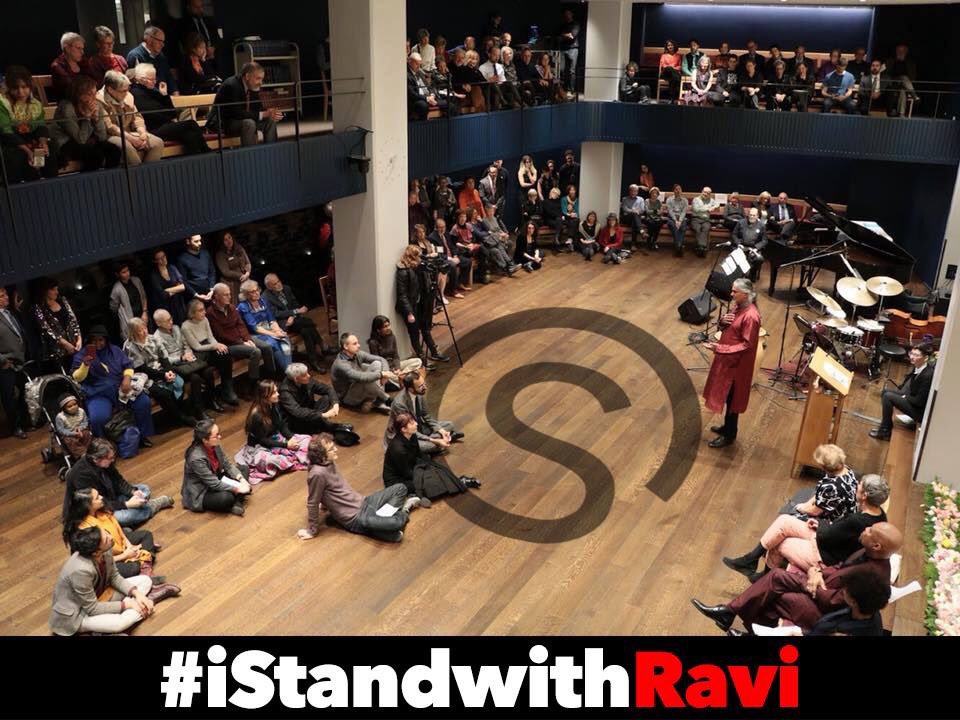 Our Executive Director #RaviRagbir was targeted and detained by ICE yesterday. Now more than ever we need the support and dedication of our volunteers.
Nationally recognized immigrant rights leader Ravi Ragbir was detained while
reporting to Immigrationand Customs Enforcement for a routine check-in on
January 11, 2018 at 26 Federal Plaza in downtown New York City.
To stop his deportation, faith leaders, city council people, friends and allies
surrounded the ambulance he was taken away in peacefully blocking its
departure as it tried to exit the building. For 30 minutes people were
knocked down, and thrown aside, but then picked themselves back up and
put themselves back in front of the truck. Over 15 people were reported
arrested.(Photos by Erik McGregor)
More photos of A walk Around the Federal Building.
Diane Greene Lent.
Photo of this writer with a few friends, Ann and Jenny.
There are days when the city breaks my heart.
And we move forward together, making sense of the opposing forces clashing, clanging, beating and resolving themselves.
I watched my friends locked up and detained, as others grieved and battled the cops, praying and fighting all day long.
I saw my friends beaten and forcefully arrested, a friend well into her eighth decade pushed to the ground, another arrested for defending a friend.
None of us were sure what was the best way to stand with Ravi, our friend who was detained by ICE yesterday.
Emotions welled through many of us. I wasn't really sure how to respond to the news. Ravi wasn't dead. But he was put in a bad situation, one that could threaten his life and in the least, separate him from his family indefinitely, something that may be akin to death.
Caroline joined us to surround the Federal Building where Ravi was being detained.
Some of us attempted to block the ambulance taking Ravi out of the Federal Building getting, the police tossing us away, as we regrouped and jumped back in front of the vehicle.
The fury of the moment overwhelms.
You watch friends put their livelihoods on the line to support a friend.
You see your comrades disobey a world saying deporting people is just a part of global trade.
Activists from all over the city stood up for Ravi.
But I didn't really know what was the right thing to do.
So i stayed in the streets and disobayed because thats what my heart told me to do.
Once the ambulance was gone. I left the streets.
Didn't feel like sitting around waiting to be arrested.
Others from Rise and Resisters, members of the Judson Community, Monica and Micah, Jenny and Ann were all taking busts to protest this injustice.
There was a lot of emotion watching a friend detained. The shadow of the country is coming through. In the midst of it all, kinder hearts were fighting to find their way in this dark moment.

You watch friends take a bust with a smile or a grimace.


At one point I felt so exhausted by the beating up from the cops, I almost
let my body fall to the ground and give up but then I remembered what we
are facing in this nation. We cannot let hate write our story. Whenever we
have an opportunity to stand up to injustice, if we can, we must.
who accompany people at any time of day or night who have ICE appointments
and so inspired by the bravery of those who head in, not knowing what their
When alone, we are vulnerable, but together we are unbelievably strong!
the street. So sad and angry for Ravi but there is still hope! Please take action!
Colleen Asper, pictured above, writes: "With all the coverage of what happened yesterday when
in by ICE, there are some things I want to make sure everyone knows.
A well known a

ctivist has been DISAPPEARED. We think that Ravi was taken to Bellevue, but neither
Bellevue nor ICE answered questions from Ravi's wife or lawyer about his location. A federal court has now
responded to an appeal Ravi's lawyers filed yesterday by setting a new hearing for January 29th and issuing
a temporary stay of removal and a temporary order blocking Ravi's transfer away from the New York region.
This is as ICE's online detainee locator system lists Ravi as being detained in Florida at the Krome detention f
acility. This means Ravi may have been taken from the hospital to a plane yesterday.
This represents a marked ESCALATION in ICE's approach in NYC. Previously Ravi's status as a well known
organizer guaranteed an international spotlight which offered him some protection. Last week ICE snatched up
Jean Montrevil, one of the founders of the New Sanctuary Coalition, despite a motion pending before the Board
of Immigration Appeals and a check-in on the schedule. Yesterday they took Ravi, leader of the New Sanctuary
Coalition. This is happening on the heels of hundreds of thousands of people losing TSP.
This escalation was met with an incredible display of RESISTANCE yesterday. When they tried to take Ravi out
of 26 Federal Plaza in an ambulance (in handcuffs) dozens of us fought to stop them. There was literally a 30 minute
street fight in which I was picked up into the air and tossed aside and pushed by the police more times than I can count
and watched the same happening all around me. There is footage of protestors being strangled. Each time they cleared
us out we got back up and more people filled in. The only way that ambulance was able to get through was by backing
up and then when we ran around to the other side, darting forward. I am so grateful for everyone who fought yesterday
and especially
for the 18 who were arrested.
And the fight goes on."
I was just part of the multitude.
After the arrests, Caroline and I tried to warm up.
"Don't cry. Its something deep in you that is upset and was upset way before this. Its not this," mon amor told me.
No human is illegal. Free Ravi. Call your senators now, she continued.

After coffee, I walked back to Foley Square to find my bike and Donna Schaper and Reverend Billy were speaking.
Some went for jail support. I went home to write.
My friend Andrew Velez from ACT UP met me at the Center a few hours later. He is perhaps the longest running member of the group still attending regular Monday meetings, three decades and counting.
The only guarantee in activism is that if you don't try, you are going to lose, he counseled me. So keep on trying, even when you are losing.
"What else are you going to do, let them put a red hot poker up your ass without a whimper?"
Finishing the meeting, I rode to the 5 PM vigil on Houston and Varick, outside the detention center where Ravi was being held.
.
Glad to see you free Reverend
Micah Bucey
The light brigade had colored signs that declared: No One is Illegal. Free Ravi!
A few of us discussed the action and some disagreements about tactics.
"If they take the biggest immigrant organizer in the city and we don't make a stink then what are we saying to them," noted my friend Alexander.
"I may not think much of believe in god, but i don't say anything," noted a friend, referring to the critique of the ambulance action earlier by some of the faith based leaders, which some worried could put Ravi in danger. We need solidarity between movements, which extends to an appreciation for a diversity of tactics. After all, some people still blame ACT UP and the Civil Rights groups for using civil disobedience, instead of just lobbying. Yet, its hard to imagine any of the civil rights era laws or HIV treatment advances without this practice. Sometimes patient and polite does not cut it.
The evening kept going and going.
Following the vigil, Erik who had been out all day was giving a talk about his photo documentation of grass roots groups at the New York City Municipal Archives.
A few of us who had been at the rally took in the talk.
His photos, including of the action earlier in the day, are consistently magnificent.
He tells the story of our lives, inviting our actions into larger conversations, propelling our small actions into images, which tell stories across the globe. He's always there for us. In his own way, he makes us stars, connecting individual lives with larger social movements.


She wrote:
We talked and explored the archives photos of protests through
And then make our way up to a party above the old Times Up!
where we talked and laughed deep into the evening.
It had been a day of watching our friends share a collective heartbreak
Jumaane Williams was right.
We are on the right side of history.
We'd be remembered for that.
We may not have won on Thursday, but we still had a duty to resist and
fight for our friend's freedom.
At Eric's talk, someone mentioned old adage.
"It is our duty to fight for our freedom.
We must love each other and support each other.
We have nothing to lose but our chains."
She was right.

It is our duty.
NEW YORKERS HOLD EMERGENCY RALLY AT FOLEY SQUARE IN NEW YORK
What: Emergency rally in support of Ravi Ragbir, Executive Director of New Sanctuary
Coalition of New York City
Who: Community members, faith leaders, elected officials, legal advocates
Where: Foley Square, New York, NY, near 26 Federal Plaza
PRESS ARE INVITED TO ATTEND THE EMERGENCY RALLY HAPPENING NOW
AT FOLEY SQUARE.
New York, NY: Nationally recognized immigrant rights leader Ravi Ragbir was detained
today, while reporting to Immigration and Customs Enforcement for a routine check-in. Hundreds are gathered outside the federal immigration building at 26 Federal Plaza in downtown New York City to show solidarity with all those affected by the deportation machine, including Ragbir, when ICE detained him.
Mr. Ragbir is the Executive Director of the New Sanctuary Coalition of New York City, a faith-based coalition devoted to immigrant rights. Ragbir is a fixture in the immigrant rights movement, and was awarded the 2017 Immigrant Excellence Award by the New York State Association of Black and Puerto Rican Legislators, given to those who show "deep commitment to the enhancement of their community."
New Sanctuary Coalition Co-Chair Rev. Kaji Dousa, Senior Pastor of Park Avenue Christian Church, stated that "Ravi Ragbir means everything to this city. A longtime New Yorker, a husband and a father, Ravi is beloved by all of us who have had the privilege of working with him to make New York a welcoming community for all of its residents. The fact that ICE has taken him as if his spirit, family ties, and contributions to the community mean nothing is inhumane."
Mr. Ragbir has lived with the threat of deportation for nearly a decade, as the result of a 16-year old conviction for wire fraud. He was placed into removal proceedings in 2006 and spent twenty-two months in immigration detention before being released in February 2008. During immigration detention and since his release, Ragbir has devoted his life to the lives of immigrants, working tirelessly to end the use of immigration detention, stop deportations, and secure relief for countless individuals. Previously, ICE officials had granted Ragbir prosecutorial discretion, including a stay of removal that was in effect until next week.
Mr. Ragbir's detention comes just days after Immigration and Customs Enforcement detained Jean Montrevil, another immigrant rights leader who was one of the founding members of the New Sanctuary Coalition and who, like Ravi, had been permitted to live with his family in the U.S. pending his legal challenges to his case. "The detention of both Ravi and Jean is an affront to faith-based communities everywhere," stated Rev. Dr. Chloe Breyer, Executive Director of the Interfaith Coalition of New York City. "People who are willing to speak out against the injustices of the immigration system should not be targeted for deportation. No one should be treated this way."

Posted on January 11, 2018

To:

The People!We Support Ravi!RS
Campaign created by